Staying longer or leaving earlier than expected.
Having a great experience at Urban Campus and want to stay longer?
Need to cancel your subscription earlier than the date indicated on your contract?
We understand that things can change, our coliving model is designed around flexibility and you can cancel your subscription at any time without any penalty by giving us 30 days notice. Bear in mind your contract might have some minimum commitment (for example, 6 months minimum stay), for which you benefited from some kind of discount. If this is the case, cancellation charges may apply.
In both case, you just need to change your move-out date... and we made it super easy!
Interested in a room or flat change? Look at the end of this article.
🗓 Changing your move-out date
You can now change your move-out date directly from your member area.
In the section "My subscription", you can find all your subscription information and dates and a button "Modify move-out date".
Click on "Modify move-out date".
Select your new desired move-out date.
Sign the amendment contracts.
And that's it ;) The move-out date is updated. You will receive a confirmation mail and you can see the change reflected in your member area.
Here some screenshots to guide you through it: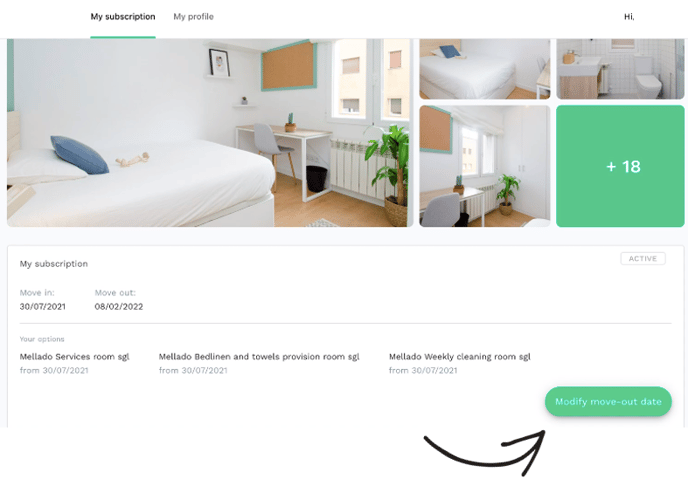 ---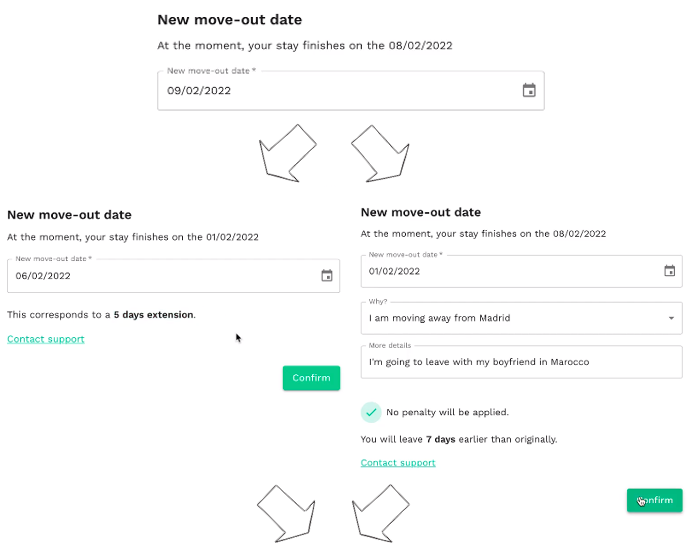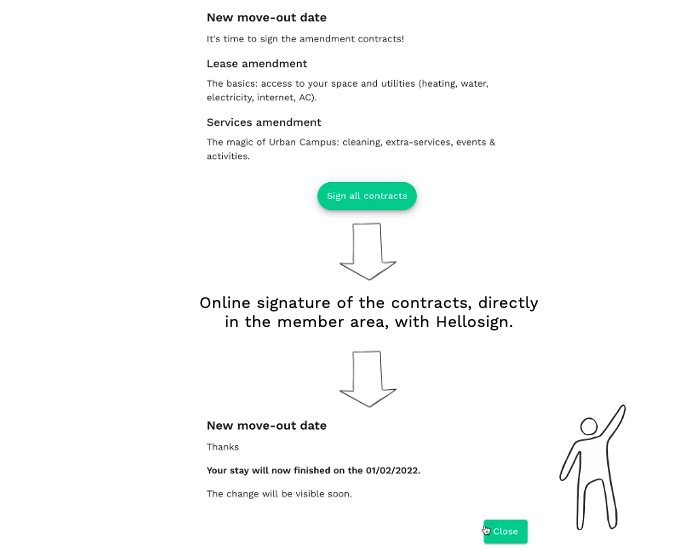 ⚠️ If you have a company subscription please send an email to support@urbancampus.com and we will manage your subscription change.
🛏 Changing rooms / studios
There's just a few things you need to know before asking a switch.
We only allow room changes for residents who have been living with us for at least 3 months and plan to renew for at least another 6 months.
Please also take note that:
You will have to comply with these 6 months to be entitled to another room change, so make it a good one.
A resident will not be prioritized during 6 months after getting a disciplinary warning.
If all the flatmates in a shared apartment unanimously ask Urban Campus to place a specific person in an available room in their flat we will take it into consideration.
Before sending us your room change petition, wait until you have spent 1 month in the coliving. That way you have more idea of how is life inside and you will ask for something you really want!
If you and another resident are interested into switching rooms, let us know. We would love to make everyone happy!
Last but not least, we'll need some time to prepare these changes and make sure everything is just right so please make sure to let us know well in advance.
Please send an email to support@urbancampus.com or fill up the support form in the member area.
We will take it into account: when you comply with what is explained above and there is a room that becomes available, we will let you know.
In your message, please include:
Your full name
Coliving space and current room or apartment
How long you have been living with us
Which room or apartment you would like to change to
How long you plan to stay in your new place