All you need to know to access your flat and the different areas of your coliving with the Tapkey app.
Our Coliving buildings are prepared with the best tech to make your life easier! One of the highlights are our smart locks. You can open all doors you have access to with a smartphone! 📱
🌀 Technology
Tapkey is an innovative app that lets you open locks easily and with full security, with Bluetooth technology.
All smartphones with Bluetooth are compatible!
🔌 No more battery or lost smartphone
No worries! 😉
You can use the Tapkey app with another smartphone. Use your credentials to connect on the app and you'll have the same access that with your own smartphone.
We installed a universal charger station in the entrance of the building. Charge your phone for a little while and you're good to go!
📲 Installation
Step 1: ☁️ Download the Tapkey app on your smartphone
This is available for iOS and Android.
➡️ App Store
➡️ Play Store
Step 2: 🌀 Give access to the app to your Bluetooth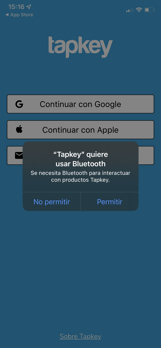 Step 3: 🔑 Create an account on Tapkey
Choose "Continue with email" and then "New in Tapkey? Create an acount"
Important: Use the email you used for your subscription and for the Urban Campus member area!
Step 4: 📧 Verify your email address
Check your emails. You should receive an email from Tapkey to verify your email address with a link.
Step 5: 🚪 Open a door!
Your app is ready!
When your are close by a door you have access to (2-3 meters), the door will appear in your app. Just push the circle during a few seconds and the door will unlock! 🙌🏽 You can also see all the doors in "My keyring".
⚠️ Any questions or issues?
If you are experiencing issue with the App, please try to uninstall it and install it again.
If you continue to experience issues, please send an email to support@urbancampus.com or fill up the support form in the member area.